The wind is getting colder as December slowly inches closer. With two years of purely home celebrations and social distancing, the holiday season finally finds itself able to light up fireworks and bring people back together for a joyous occasion.
As we begin to adjust better to the new normal, different Christmas events finally open themselves up to the public this December! Check out these exciting holiday events all over the country as they hang up parols and LED lights, welcoming the return of the Christmas season we've all come to know and love.
Pasay City
With the return of more public events comes the return of a classic holiday fireworks display at SM by the Bay at SM Mall of Asia. Only stopping with the pandemic, Mall of Asia's Holiday Fireworks is one of the most awaited celebrations in the city of Manila—or arguably in the entire country. The display happens every Friday and Saturday at 7 p.m. until the end of the year.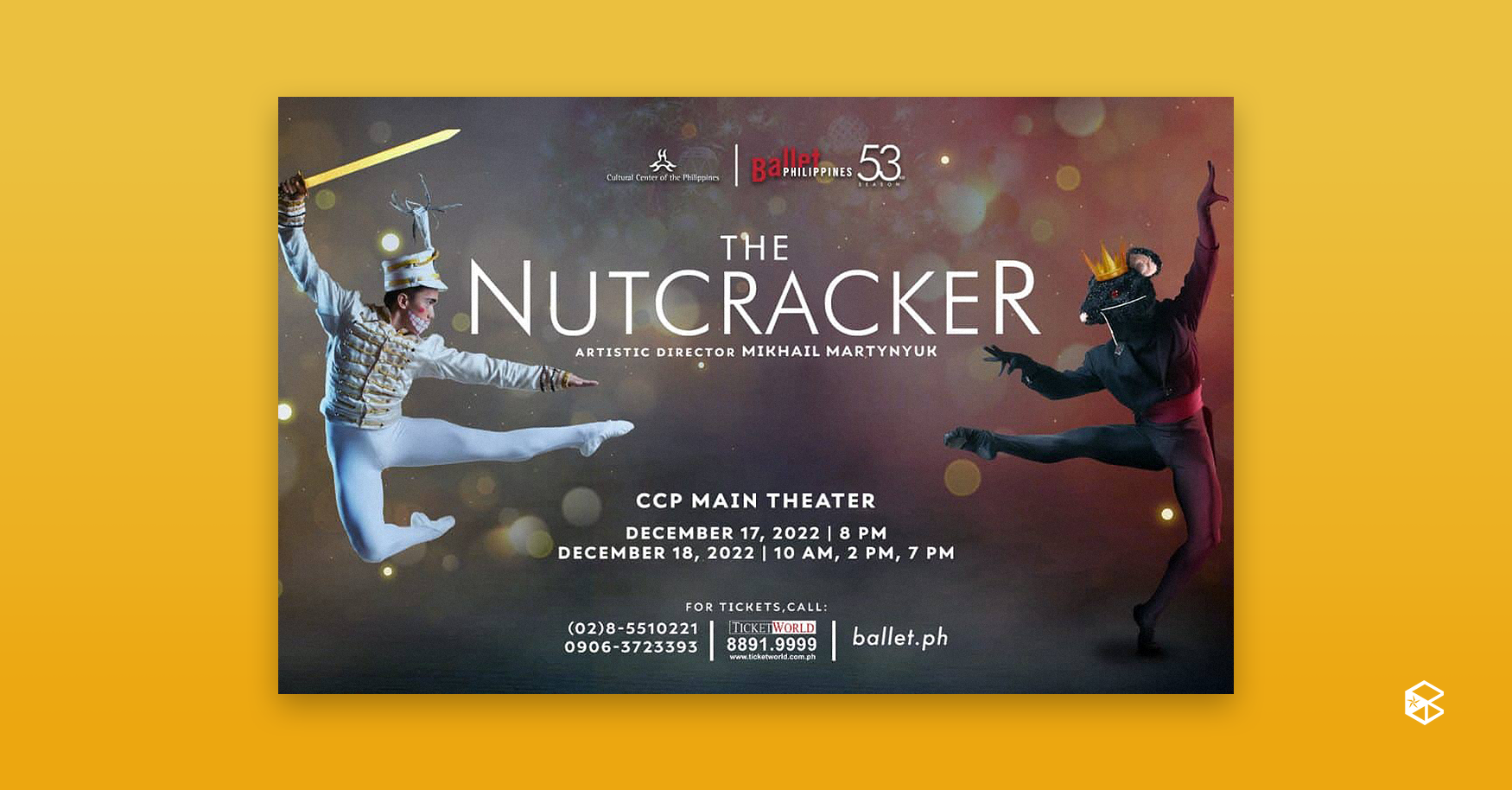 Layout by Maia Martin
However, if you're looking for more theatrical celebrations, the Cultural Center of the Philippines has got you covered. Ballet Philippines and Manila Symphony Orchestra tell the tale of The Nutcracker at the CCP Main Theater on Dec. 17 (8 p.m.) and 18 (10 a.m., 2 p.m., and 7 p.m.). Grab your tickets now for a timeless tale of oversized whimsy.
Makati
Makati finds itself always busy with Ayala Land's many events for December. Visit the Christmas Market from Dec. 2 to 31, celebrate simbang gabi from Dec. 15 to 23, and splurge on a Christmas Holiday Concert at The Samsung Performing Arts Theater from Dec. 20 to 22.
Ayala Land doesn't stop there, as they've already brought back the well-loved Ayala Lights. After its lighting ceremony on Nov. 3, the whimsical display engulfs Ayala Triangle Gardens and will continue to do so until Jan. 8, 2023.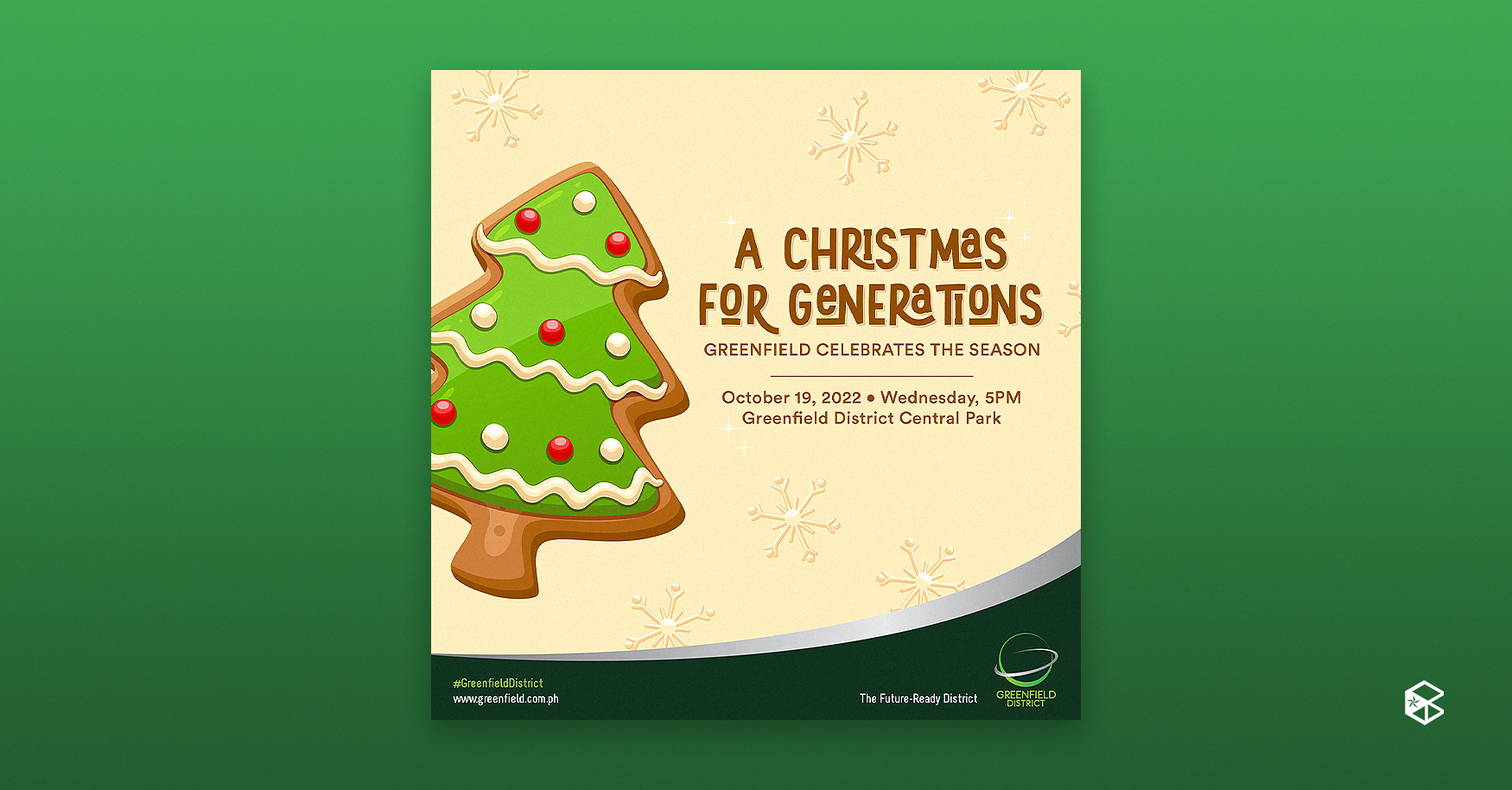 Layout by Reina Cruz
Mandaluyong
The city of Mandaluyong is transformed into a perfect holiday spot in time for Greenfield Development Corporation's (GDC) annual Christmas festivities called "A Christmas for Generations." Quite literally a Christmas for generations, Greenfield District becomes a perfect spot for families to gather together with the many booths and stalls sure to catch your eye hosting bazaars and other activities every Saturday and Sunday until the end of the year.
Ortigas
Witness the daily light spectacles at Capital Commons by Ortigas Land with their Christmas installation, featuring colorful lights projected onto the path around the park and surrounding buildings. Experience the Illuminated Path daily from 6 p.m. to 10 p.m., enjoy the Night Market located at the center of the park, and eat Al Fresco from Fridays to Sundays from 4 p.m. to 10 p.m.
You may also want to take a walk at Ortigas East to catch the Christmas Street Light Musical Tunnel daily from 6 p.m. to 10 p.m. and relish the Christmas Food Bazaar from Thursdays to Sundays from 4 p.m. to 10 p.m.
The Christmas installation will run until Jan. 8, 2023. Visit their Facebook page for more details.
San Juan City
As Greenhills Night Market reopens for the Christmas season, the public is again greeted with "tiangges" offering different goods such as toys, houseware, apparel, and other gift items, and food stalls ranging from Filipino to foreign cuisines.
Organized by Ortigas Malls, this year's additions include mini carnival rides and live DJ nights to entertain the guests, and a display of fireworks will occur every Saturday in December.
The Night Market runs every day until Jan 8, 2023, from 4 p.m. to 12 midnight. Please take note that wearing masks is voluntary but is still strongly encouraged to ensure the safety of the area.
Quezon City
Sing along to the different live performances at the Eastwood Citywalk on Dec. 16 as fantastical displays are set up around Eastwood City until the end of December. Free treats are given to those who ride the Christmas Tranva, perfect before the firework display lights up the sky at the Eastwood Mall Open Park at 7 p.m. on Dec. 2, 16, and 24.
Attention pet lovers, Eastwood City stands as one of the pet-friendly locations for guests for the holiday season. Holding the Adoption Award Day, pet parents will be able to adopt new pets and, from Dec. 14 to 25, support different initiatives from the organization.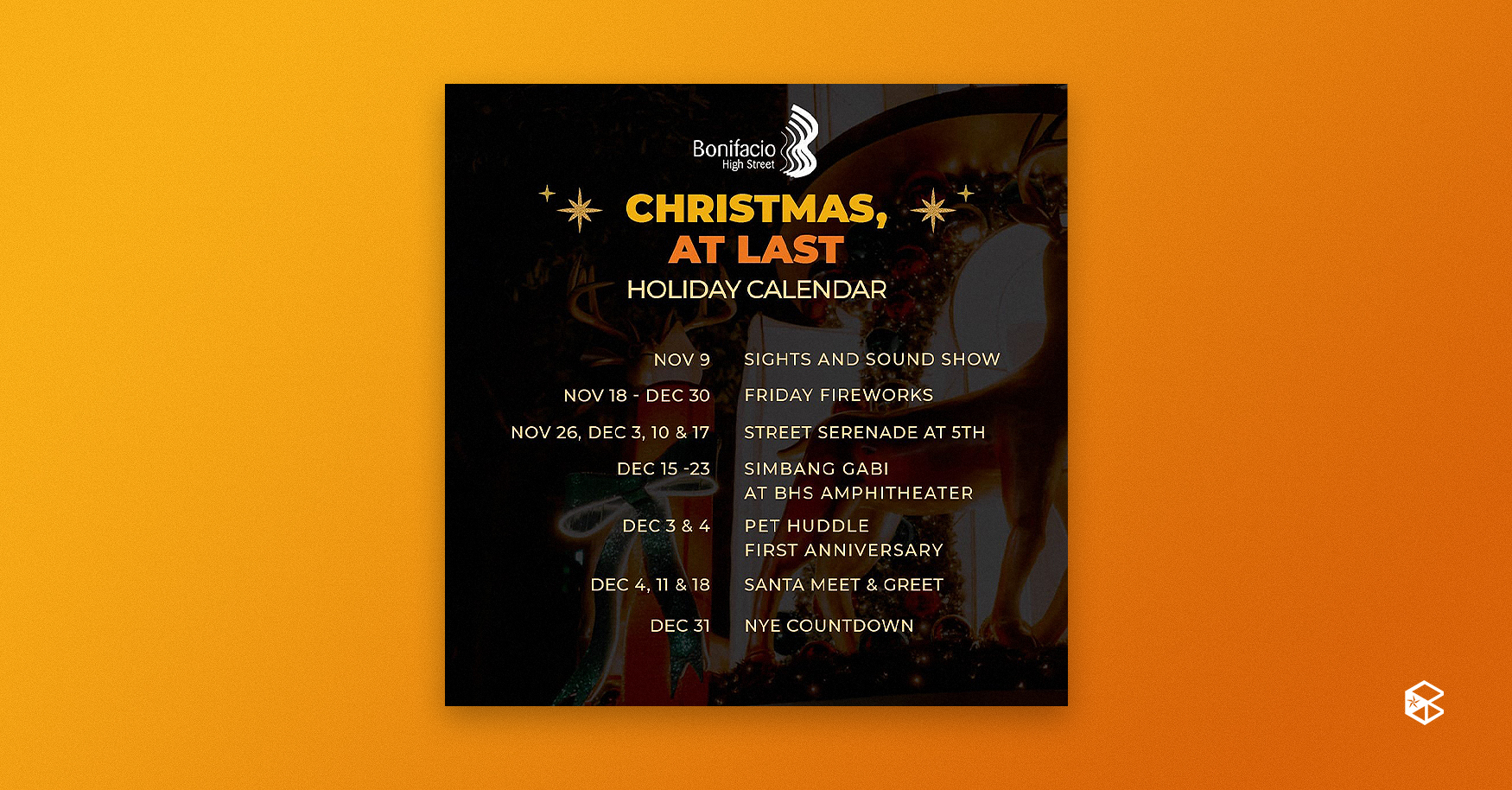 Layout by Alia Medina
Taguig
Mark your calendars with BGC's exciting activities for the most wonderful time of the year. The month-long celebration will hold a Pet Huddly FURst Anniversary on Dec. 3 and 4, a Santa Meet and Greet on Dec. 4, 11, and 18, and a High Street Serenade that will take place live with different artists.
The serenade will feature the voices of Unique Salonga and Adie on Dec. 3., and Lola Amour and Jose Mari Chan on Dec. 17, all at 6 p.m. Other than that, simbang gabi will be held at BHS Amphitheatre on Dec. 15 to 23.
Friday fireworks will be displayed until Dec. 30. To top that off, a New Year's Eve countdown will be launched on Dec. 31.
You may want to check out their Facebook page for more updates.
Parañaque
Marvel at Okada Manila's eye-catching lights and sound spectacle! The resort exhibits a Daily Lights Show at the Fountain Foyer and Crystal Pavilion with the following schedule: 6:30 p.m., 7:30 p.m., 8:30 p.m., 9:30 p.m., 10:30 p.m., and 11:30 p.m.
Besides that, you may also want to stroll around the Crystal Pavilion to catch sight of the Christmas Village and the Grand Okada Christmas Tree from 11 a.m. to 1 a.m.
Displays and shows will continue until Jan. 1, 2023. For more information on their Christmas attractions, visit Okada Manila PH
Calamba, Laguna
Be splashed with the visual wonder of Ayala Land's spectacular water and lights show. The water extravaganza features three shows: Sayaw ng Parol, The Ocean Depths, and The Night Sky, all of which are accompanied by a lively musical arrangement specially made for them.
You can catch this free show at Nuvali's Lakeside Grounds in Santa Rosa, Laguna. Fountain of Lights is on display from Friday to Sunday, 6 p.m. to 9 p.m., until Jan. 8, 2023.
For updates, Follow Nuvali on Facebook.
Tagaytay
Chill out with the Christmas breeze in Tagaytay's Christmas Village reopening at Crosswinds Tagaytay. A sight to behold, the village is a joy to wander around in at any time of day. But the magic amps up at night as lights flourish and a parade and marching band begin bringing the streets to life and guests up on their feet.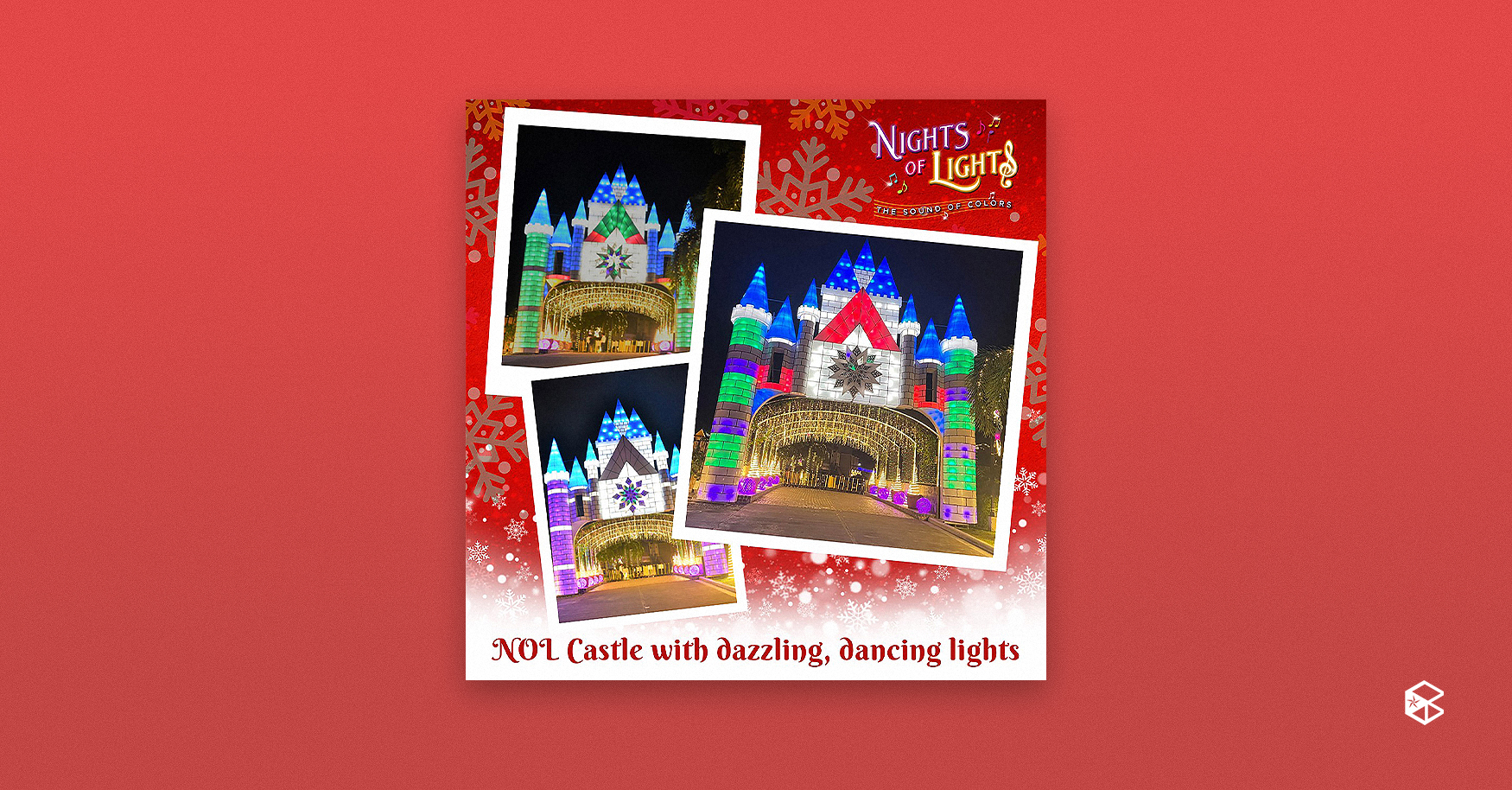 Layout by Rara Lubay
Pampanga
For two consecutive years, Orchid Gardens Resort Complex opened its Christmas Village to the public, featuring a vibrant symphony of Christmas lights, snowy bubbles, and musical performances. For this year's "Nights of Lights: The Sound of Colors," you can expect to see various cartoon characters and your favorite Disney princesses. While night strolling, you might even bump into Santa Claus with his elves, Santa girls, stilt walkers, and jugglers.
You may visit this festive Christmas Village daily at The Orchid Gardens Resort Complex, Lazatin Blvd., San Juan City in Pampanga from 5:00 p.m. to 12:00 midnight. The entrance fee is set at P50 per head, while children aged one and below can enter free of charge. All guests must wear their face masks except while actively eating or drinking.
Christmas has been kept indoors as the blizzard of a pandemic hit us all. With fewer threats that block the doorway to an outdoor trip with friends and family in the holidays, familiar events open up with warm fireplaces ready to celebrate big once more.
As the world has yet to fully rid itself of COVID-19, masks will have to stay on, and people will always have to be careful of their health. Have a safe Christmas and happy holidays!