Interior Design Exhibit (INTDXHI) renovated another environment—this time with INTDXHI Batch 22's Project AKAY which hopes to make the world more accessible for people with disabilities, starting with the non-profit PWD organization Tahanang Walang Hagdanan's Main Office.
Tasked to renovate Tahanang Walang Hagdanan's Main Office in Catina, Rizal, for wheelchair accessibility, INTDXHI deemed AKAY 2022 a success. Guided by the theme of AKAY, "Reinforcing Inclusivity Within the PWD Community by Implementing a Sustainable, Adequate, and Borderless Environment," the batch brought interior design to a more inclusive future.
Exhibiting the project through Facebook live on Nov. 25, the team went through the project's process, from its very digital conceptualization to unveiling the renovation to their partner community. InD Karol Antonio, the degree program's chairperson, introduced the interior design program and the immersive capstone project of students through INTDXHI.
At its core, the capstone program aimed to promote inclusivity and remove barriers and discrimination in different environments. Mr. Ramon Rey Emmanuel Apilado, Tahanang Walang Hagdanan's representative, thanked the students and the College, "Words cannot express our feelings right now. We never thought that a small space, like our main office, can turn into a gigantic interior design inside our main office."
Batch 22 held different fundraising events to make the project possible. These included a direct fundraiser, chic merchandise, and a full-house screening of Disney-Marvel's Wakanda Forever and their Kwentong Bayan film screening event that featured different local films.
Revealing the finished renovation on Nov. 21 through a ceremonious ribbon cutting, the Main Office transformed into a colorful, spacious, and accessible environment. The office is simple, efficient, and contemporary—perfectly balancing good design and decoration with something professional required of a workplace.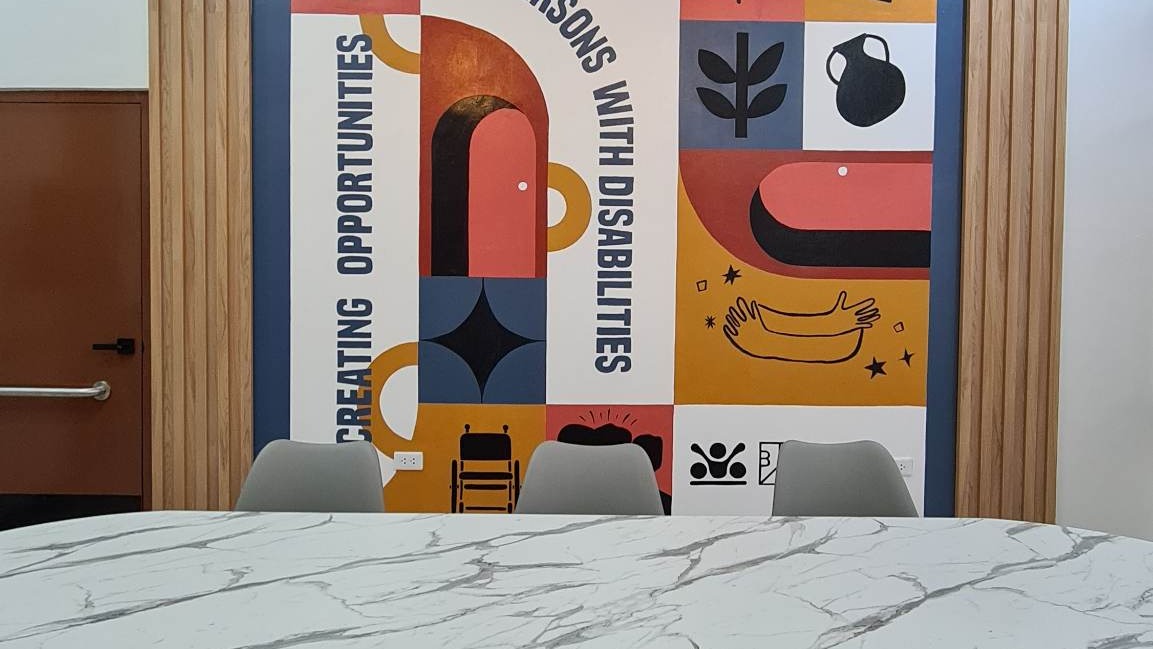 Photo courtesy of AKAY 2022
And accessible it is with the inclusion of an open-space under-the-counter coffee bar, grab bars on doors, and more rounded-edged furniture to prevent physical barriers. Push-to-activate mechanisms were also put in place for built-in media consoles alongside bigger spaces underneath surfaces for people with wheelchairs.
Design-wise, the designers upheld the organization's mission of uplifting PWD lives through each opportunity. Adding a history wall to feature their different milestones and an artistic mural that inspires visually and directly with the motto "Creating opportunities for people with disabilities" was the cream of the crop.
AKAY 2022's Batch 22 then passed down the torch to the next generation, wishing them a successful renovation project in the light of making spaces accessible and ridding discrimination.
"Interior design should rise above being just a luxury but a necessity and service. Design spaces should be a necessity because design impacts lives," INTDXHI'22 Adviser InD Candice Arboleda said, speaking from her experience as a mentor for more than 10 years.
Learn more about AKAY 2022 through their official Facebook page here. Meanwhile, you can discover more about uplifting PWDs and accessibility by visiting Tahanang Walang Hagdanan's Facebook page here.