Cinema '76 Anonas, the country's pioneering micro-cinema, proudly brings you the in-competition films from the recently concluded 18th Cinemalaya Philippine Independent Film Festival, which will premier from Aug. 24 to 30 on the third floor of the Anonas LRT City Center, Aurora Boulevard, Quezon City.
After a two-year hiatus, the Cultural Center of the Philippines (CCP) and the Cinemalaya Foundation Inc. ended a successful in-person film festival run of this year's "Cinemalaya 18: Breaking Through the Noise" at the CCP Complex from Aug. 5 to 16.
If you plan to watch this year's edition from the comfort of your homes, the films will be available to stream online from Oct. 17 to Oct. 31.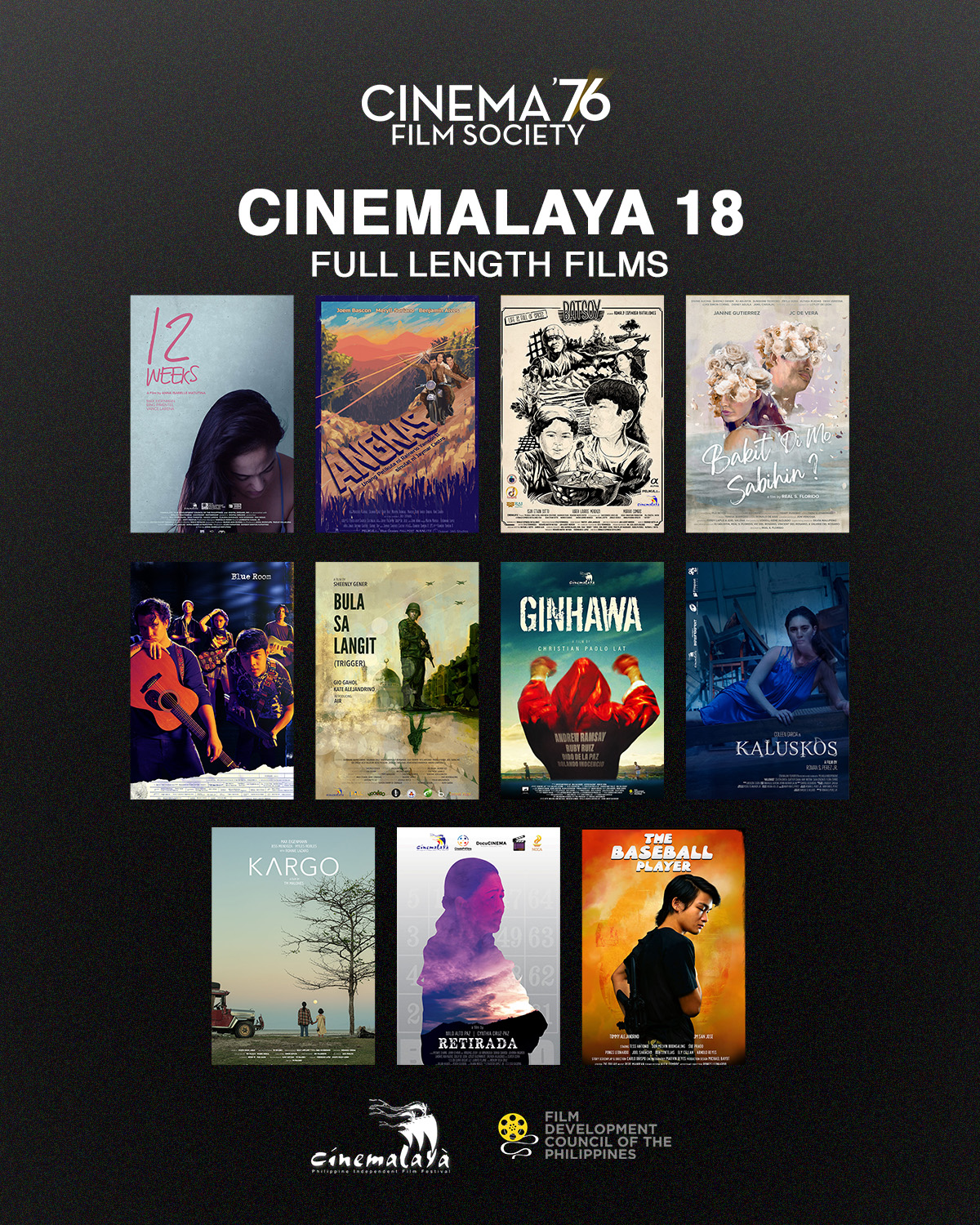 The full-length films include:
12 Weeks

by

Anna Isabelle Matutina

(Best Actress:

Max Eigenmann

, NETPAC Award)
Bakit 'Di Mo Sabihin?

by

Real Florido
The Baseball Player

by

Carlo Obispo

(Best Film, Best Actor:

Tommy Alejandrino

, Best Screenplay: Obispo)
Batsoy

by

Ronald Espinosa Batallones
Blue Room

by

Ma-an L. Asuncion-Dagnalan

(Best Director, Special Jury Award, Best Supporting Actor:

Soliman Cruz

, Best Cinematography:

Neil Daza

, Best Production Design:

Marxie Maolen Fadul

)
Bula Sa Langit

by

Sheenly Gener

(Best Sound Design:

Pepe Manikan

, Benilde MMA and film professor)
Ginhawa

by

Christian Paolo Lat

(Best Supporting Actress:

Ruby Ruiz

)
Kaluskos

by

Roman Perez Jr.
Kargo

by

TM Malones

(Audience Choice Award)
Retirada

by

Cynthia Cruz Perez

and

Milo Alto Paz

(Best Music Original Score:

Isha Abubakar

)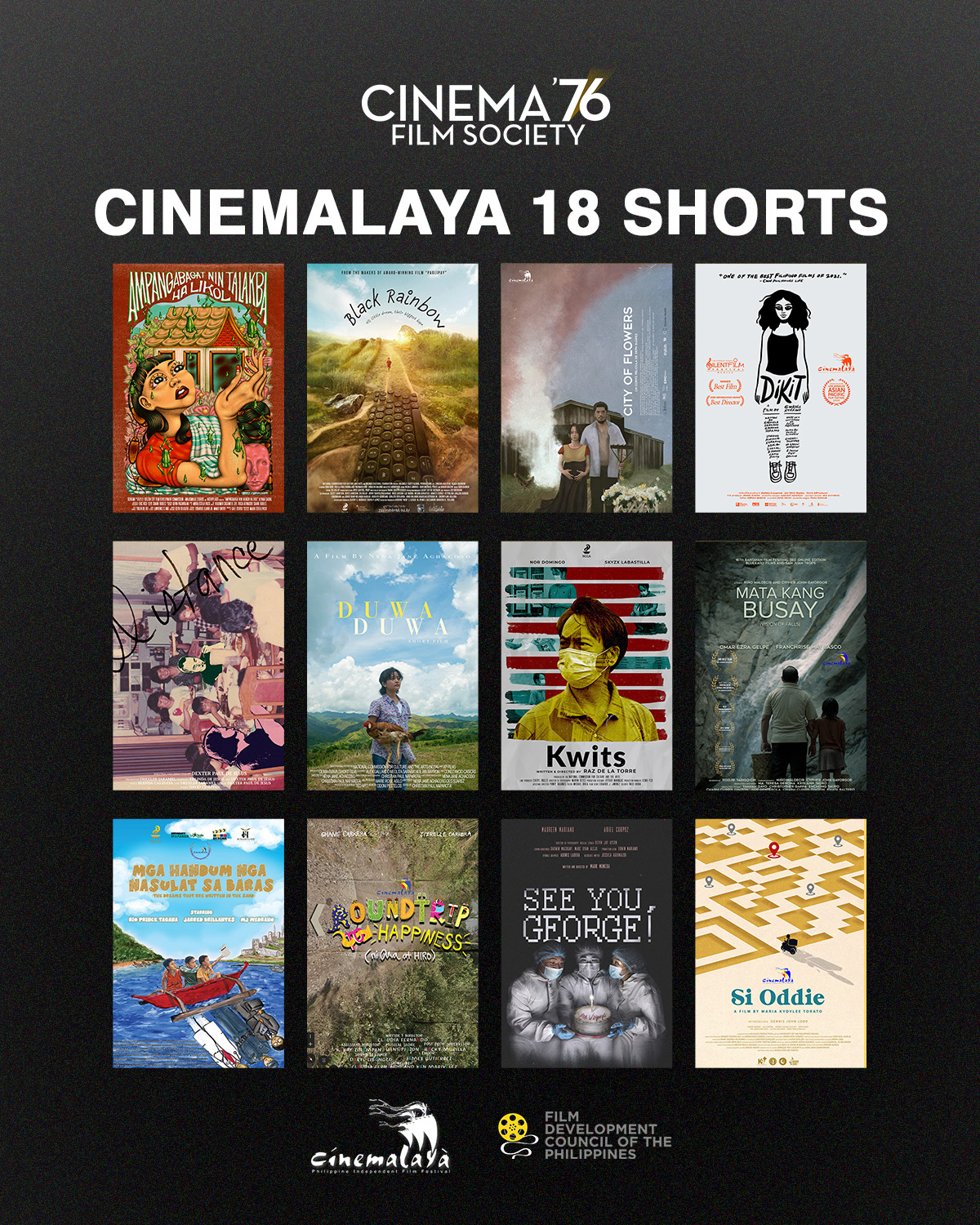 The short film lineup includes:
Ampangabagat Nin Talakba Ha Likol

(

It's Raining Frogs Outside

) by

Maria Estela Paiso

Black Rainbow

by

Zig Dulay

(Best Film, NETPAC Award, Best Screenplay: Dulay)

City of Flowers

by

Xeph Suarez

Dikit

by ID 113 Multimedia Arts (MMA) alumna

Gabriela Serrano

(Best Director, Special Jury Award)

Distance

by

Dexter Paul de Jesus

Duwa-Duwa

by

Nena Jane Achacoso
Mata Kang Busay

(

Vision of the Falls

) by

Nino Maldecir

and

Cyphor John Gayorgor

Mga Handum Nga Nasulat Sa Baras

(

The Dreams That Are Written in the Sand

) by

Arlie Sweet Sumagaysay

and

Richard Jeroui Salvadico

(Audience Choice Award)

Roundtrip to Happiness

by

Claudia Fernando

See You, George!

by

Mark Moneda

Si Oddie

by

Maria Kydylee Torato
"Cinema '76 Film Society is honored to be a cinema partner in this year's Cinemalaya Festival. It's been two years since the festival had in-person screenings and as Cinemalaya fans ourselves, we're excited to welcome indie fans, looking to catch some of the best films of the year," Executive Vice President and General Manager of TBA Studios and Cinema '76 Ms. Daphne O. Chiu shared in a press release.
Spend your self-love endeavors or set a movie marathon hangout with your friends, and grab your tickets for only ₱250 per film screening!
For more updates and showtimes, check out Cinema '76 on Facebook, Instagram, and Twitter.