The Taft Initiative (TTI) aims to sustainably reshape Taft Avenue and its environs through the anniversary fundraising campaign "Tahanan." Opened on July 5 and garnering donations until July 31, this campaign hopes to help communities and broaden the group's reach to support individuals beyond Taft Avenue, specifically their chosen beneficiary, Hospicio de San Jose.
Without students on site, numerous establishments along Taft Avenue have been poorly affected by the ongoing COVID-19 pandemic. Thus, The Taft Initiative, a student-led social enterprise, was formed in July 2020 to assist and help in a time of crisis.
The group also organizes projects such as donation drives and fundraisers with the goal of alleviating the hardships of citizens both inside and outside Taft. Some of their previous projects include "Lasallian Community Pantries," "The Love Initiative," and "Paskong Taft."
Hope sweet home
According to a study by Chandran (2018), "there are over 4.5 million people who are homeless in the Philippines." With this, "Tahanan" seeks to provide proper shelter and nutrition for the benefit of Hospicio de San Jose, the oldest charitable institution in the country, as well as the Lasallian Community Pantry.
Moreover, The Taft Initiative wishes to garner ₱100,000 in donations. 75% of the proceeds will go to Hospicio de San Jose's project "From Streets to Homes: Sponsor a Family and Give A Roof Over Their Heads."
Meanwhile, the remaining 25% will be utilized to subsidize meals prepared by TTI Partner Establishments and served in Lasallian Community Pantries.
Furthermore, this initiative will conclude with a Benefit Concert featuring OPM musicians on July 31 from 6:00 p.m. to 8:00 p.m.
Don't miss the performances from blues/pop singer-songwriter Martti Franca, indie-rock band Kamara, De La Salle University's (DLSU) premier vocal group De La Salle Innersoul, alternative pop/rock The Quirks, alternative band Paprika!, indie-rock band Lagooon, and alternative pop/rock quintet LUNARLIGHTS.
For those who wish to donate, you may send them to the following, or scan the QR code included in the photo below.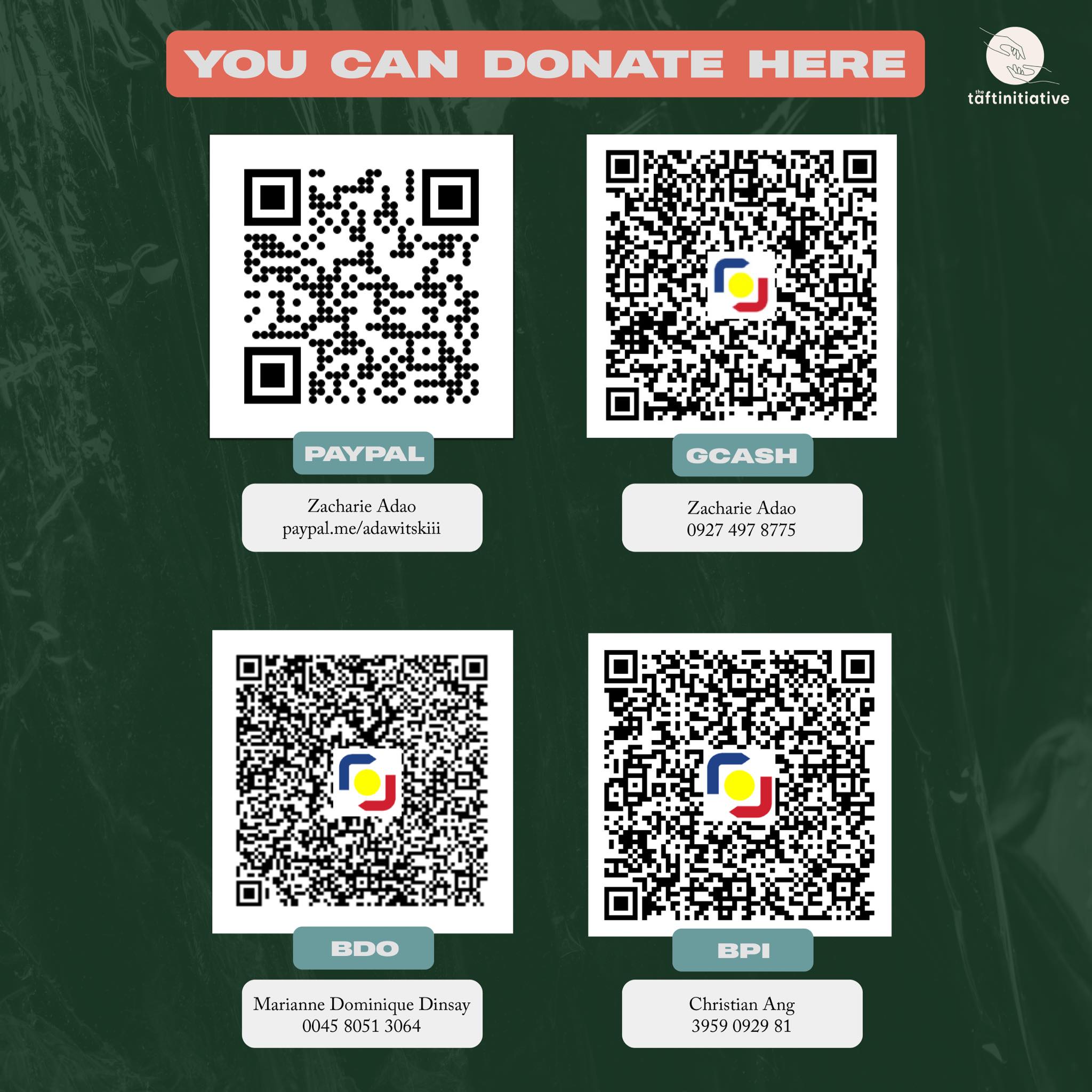 Paypal
paypal.me/adawitskiii (Zacharie Adao)
GCash
Account Name: Zacharie Adao
Account Number: 0927 497 8775
BDO
Account Name: Marianne Dominique Dinsay
Account Number: 0045 8051 3064
BPI
Account Name: Christian Ang
Account Number: 3959 0929 81
Global Reach Crowdfunding
tinyurl.com/TahananFundraiser
Kindly include "TTI Tahanan Fundraiser" in the notes when donating. You may also send in your donations through Global Reach Crowdfunding.
With any amount of donation, you may sign up to join a raffle giveaway and get a chance to win vouchers and other goodies from their sponsors such as Orange and Spices, Chik 'n Tea, and more. Winners will be announced on August 2.